ONICE REALE würdigt eine seltene Sorte persischen Onyx: eine tiefe smaragdgrüne Farbe, die durch die Vielfalt der Nuancen und der charakteristischen Abstufung der Farbtöne von Grau bis Weiß, von Grün bis Braun exklusiv wird. Die in 6 Farbvarianten angebotene Kollektion wird durch den sehr hohen Glanzwert hervorgehoben, der durch die Verwendung von Kieseln entsteht, und durch eine Vielzahl von Formaten, darunter 120 x 280 cm und die spektakulären 160 x 320 cm, zusätzlich zur Geltung gebracht.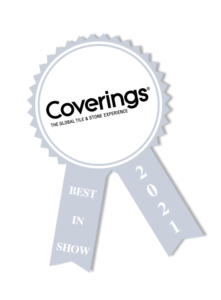 Coverings 2021
Best Booth Awards – Big & Bold category
Tagina wins the Best Booth Awards for the Big & Bold category with its large-format slabs and its collections.
The judges and the numerous participants in the event were fascinated by the wide range of thickness and dimensions with colours, graphics, veining patterns and shade intensities.