ONICE REALE rend hommage à une variété rare d'Onyx Persan : une couleur émeraude profonde, rendue exclusive par la variété de nuances et la caractéristique dégradé des tons de couleur, du gris au blanc, du vert au brun. La collection, disponible en 6 variantes de couleurs, est enrichie par la très haute valeur de brillance due l'utilisation de grenailles, et ultérieurement valorisée par une large gamme de tailles, dont le 120×280 cm et le spectaculaire 160×320 cm.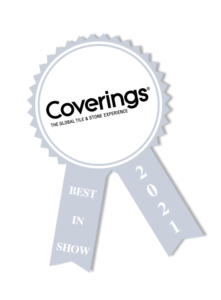 Coverings 2021
Best Booth Awards – Big & Bold category
Tagina wins the Best Booth Awards for the Big & Bold category with its large-format slabs and its collections.
The judges and the numerous participants in the event were fascinated by the wide range of thickness and dimensions with colours, graphics, veining patterns and shade intensities.