Der kostbarste toskanische Marmor aller Zeiten in einem raffi nierten Schnitt, der bereits von den Römern für die Erstellung ewiger Skulpturen und luxuriöser Wohnsitze bevorzugt wurde, inspiriert die gleichnamige Kollektion von Tagina. STATUARIO lässt sich bis zum Großformat 160×320 cm sowohl glänzend als auch naturell aufgrund des herrlichen Untergrundes bewundern, der in den Stärken von
6 mm oder 10 mm von kalten grauen Aderungen durchzogen ist. STATUARIO ist eine hochmoderne großartige Keramikplatte, die den extra hellen Oberflächeneff ekt dank der im Jahr 2020 entwickelten Produktionstechnologie erzielt hat.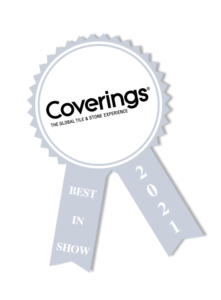 Coverings 2021
Best Booth Awards – Big & Bold category
Tagina wins the Best Booth Awards for the Big & Bold category with its large-format slabs and its collections.
The judges and the numerous participants in the event were fascinated by the wide range of thickness and dimensions with colours, graphics, veining patterns and shade intensities.