Paying homage to Tuscany's finest marble Tagina's STATUARIO recreates the elegantly cut marble preferred by the Romans to fashion eternal sculptures and build sumptuous homes. Statuario's appeal can be appreciated in sizes ranging up to the oversize slabs measuring 160×320 cm (available in both glossy and natural finishes) featuring a brilliant background and cold grey veining, available in 6 mm or 10 mm thickness. STATUARIO is a state-of-the-art ceramic slab; its extra-bright surface is obtained by using special granules during the manufacturing process.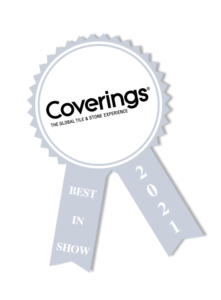 Coverings 2021
Best Booth Awards – Big & Bold category
Tagina wins the Best Booth Awards for the Big & Bold category with its large-format slabs and its collections.
The judges and the numerous participants in the event were fascinated by the wide range of thickness and dimensions with colours, graphics, veining patterns and shade intensities.