Starting with its name, Lilac pays homage to a natural oriental marble; a prestigious variety, whose dramatic black veining against a white background sometimes creates a pale violet shade. This completely unique feature is faithfully reproduced in the patterns of this series, which conjures up images of enchanted settings, suspended in time. Available in a wide range of large and medium sizes, Lilac is ideal to realize floors and walls and for the creation of the most varied and innovative applications, from iconic interior design creations, such as tables and bathroom basin tops, to stylish cladding for curtain walls. LILAC is a state-of-the-art ceramic slab; its extra-bright surface is obtained by using special granules during the manufacturing process.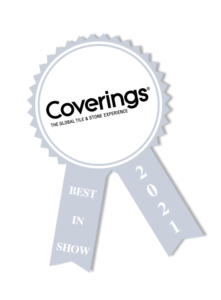 Coverings 2021
Best Booth Awards – Big & Bold category
Tagina wins the Best Booth Awards for the Big & Bold category with its large-format slabs and its collections.
The judges and the numerous participants in the event were fascinated by the wide range of thickness and dimensions with colours, graphics, veining patterns and shade intensities.