Le marbre toscan le plus précieux de tous les temps dans une coupe raffinée, déjà préférée par les Romains pour créer des sculptures éternelles et des demeures luxueuses, inspire la collection éponyme de Tagina. STATUARIO doit sa beauté jusqu'au grand format 160×320 cm, à la fois poli et naturel, au fond brillant traversé par des veines grises froides, dans les épaisseurs de 6 mm ou 10 mm. STATUARIO est une dalle céramique de dernière génération:  l'effet extra-brillant de la surface a été obtenu grâce à l'utilisation des grenailles spéciales lors de la production.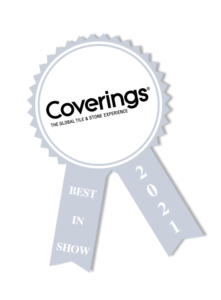 Coverings 2021
Best Booth Awards – Big & Bold category
Tagina wins the Best Booth Awards for the Big & Bold category with its large-format slabs and its collections.
The judges and the numerous participants in the event were fascinated by the wide range of thickness and dimensions with colours, graphics, veining patterns and shade intensities.